You. Guys.
Well, you girls, really. Though your guys will probably like this once you use it. 😉
I kind of have the ugly eyelashes in the family. The husband and the TWO YEAR OLD have better eyelashes than me. (Seriously, her eyelashes are gorgeous. I am jealous.) So when I saw the chance to review Younique's 3D Fiberlash Mascara, I jumped at the opportunity to try it.
It. Is. Amazing. Get yourself some. Review over.
…
Just kidding, I'm still gonna talk about it.
About the Product:
The 3D Fiberlash Mascara is just a simple three-step process that combines Transplanting Gel and Natural Fibers to help create the appearance of incredible thickness and volume to your existing lashes. They are NOT false lashes. They are your own! The fibers are natural…made from Green Tea Leaves, hypoallergenic and safe for contact lens wearers.
Younique has lots of other great products, but we're focusing on the mascara for this review. All Younique products are natural based and a mineral makeup. There's no testing ever done on animals.
For Me:
At first I was a little skeptical. I really hate it when eyelashes look obviously fake. I wore some fake eyelashes recently (for a good reason!) but it was uncomfortable and I felt it looked too obvious. So I was worried that it wouldn't look that great when I put this stuff on.
Wrong! The husband calls it my "sexy" eyes. (Sorry, Mom and Dad, if your reading this. But it is true.) I get random compliments all the time that my eye make up looks particularly lovely when I wear my fiberlash mascara. I'm starting to get addicted.
How to Apply it:
(Do it one eye at a time. This is important because the gel dries quickly and the fibers don't stick as well.)
Put your normal mascara on. (It's optional. I personally skip this step. I feel like it makes my eyelashes too clunky.)
Apply the coat of transplanting gel.
IMMEDIATELY after, apply the fiber coat.
Then generously apply more transplanting gel to make the fibers stick.
DONE. In less than 3 minutes I have my sexy eyes on.
These are my normal eyes:
These are my eyes on 3D Fiberlash Mascara: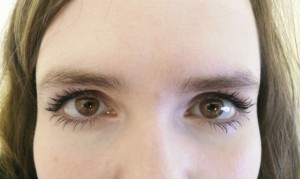 (Sorry for the different day pics. This one just showed the difference the best)
Some extras:
The first time I put them on it was a little weird. Do it a few times before you decide that you don't like them. I am glad I gave them a chance!
ONE EYE AT A TIME! (Part of the reason I didn't love it the first time… I forgot to take it one at a time).
Eyelash brushes would probably be useful. If I had one I would use it for these just to help with clumps, but my fingers worked just fine.
At $29.00, this is a bit of a splurge. But they are supposed to last at least 3 months (and the fact that I am a SAHM and don't bother with makeup daily anymore would probably extend that a bit more) and they stay on. Remember, I am a hormonal mess right now with a new baby and a toddler and tears happen, and these babies stay on great. Woohoo for water resistant mascara!
You can wear these with contacts. Just make sure you apply a lot of the gel to help the fibers really stick and seal so you don't end up with tiny pieces coming off later on on in the day
All right, everyone. Go splurge on yourself and get yourself some pretty, awesome, easy-to-apply eyelashes. The immediate raise in compliments alone with make the investment worth it. 😉

To find more reviews on this product at Home and School Mosaics click here.