I have mentioned in the past in passing how part of my success in getting healthier has been through using Shakeology.
Since I started mentioning it, I have had a lot of people ask me about exactly what IS this Shakeology? Is it a protein shake? A meal replacement? What makes it so special or different?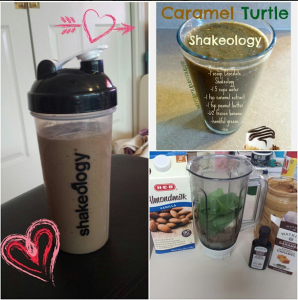 (My personal favorite recipe to date with Shakeology… no feeling deprived here!)
I have a hard time answering, not because I don't know what to say, but because there is so MUCH I to say about all the benefits of Shakeology! Shakeology does have a lot of protein in it, but there is so much more. Here are some of the highlights!
There are protein and essential amino acids to help build muscle and reduce food cravings*
These help build and repair muscles, reduce hunger and food craving, and promote healthy skin, hair, and nails. So, it does have a good amount of protein in it, but for straight up muscle building, there are actually other products Beachbody has that focus primarily on that.
Shakeology contains prebiotics, probiotics and digestive enzymes, which aid in improving digestion, regularity, and nutrient absorption*
Prebiotics, natural components of certain plants, help support the "friendly" bacteria in your digestive tract.
Probiotics are strains of live good bacteria that help with the digestive process. They assist the body in absorbing nutrients and minerals, bring an overall balance to the digestive tract, and help support the immune system.
Digestive enzymes, from sources such as pineapples and papayas, help your body break down food into its individual components, making the nutrients easier to absorb.
Shakeology has a total of 9 adaptogens
Adaptogens help promote a strong immune system, increase energy, protect the body from stress, and balance endocrine hormones and the immune system
Adaptogens are special herbs that grow in harsh climates and conditions, at high elevations, atop mountains where the soil is rocky and oxygen in the air is thin. Because these plants have to adapt to harsh conditions, they have highly concentrated nutrients that can help your body cope with stress, provide energy, and maintain a strong immune system.
Shakeology contains antioxidants and phytonutrients (plant-sourced ingredients) may help maintain health*
These help neutralize harmful free radicals, decrease inflammation, maintain the immune system, and potentially decrease the risk of degenerative diseases
Many of Shakeology's fruit and vegetable sources have been chosen for their high concentration of healthy natural substances known as phytonutrients.
Shakeology contains 23 Vitamins and Minerals
Most of us don't get the complete range of essential vitamins and minerals in our daily diets. Some important vitamins, such as vitamin C and the B vitamins, are water-soluble, meaning they're flushed out of your body after a short time and need to be replenished regularly. Others, like vitamin E, can be difficult to get enough of in food. (Tropical Strawberry and Vegan Chocolate do not have the vitamin and mineral ingredients added.)
So, when the ads talk about Shakeology being your "Daily Dose of Dense Nutrition", aside from my appreciation for that alliteration, they really mean it. There's a lot of great things packed into that scoop to make your body happy!
All of those don't cover that all these superfoods mixed together actually taste pretty good (especially chocolate mixed with vanilla almond milk and a banana… yum!) and manage to keep me full like an actual meal would when I have it for breakfast, unlike many of the products I have tried in the past. It's also doesn't have a lot of controversial ingredients that you can find in some products out there, which means I feel comfortable drinking it while breastfeeding my baby, or letting Evie take a sip when she begs for some of my special "chocolate milk".
There's a reason my heart is so happy when I see these boxes delivered every month to my door. It's totally worth the investment in myself. I love it even more that my husband, who has been super skeptical and loves to research everything, actually now requests me to make him Shakeology every morning that he can have on his way to work. His support means the world to me.
So, in summary, Shakeology is pretty dang awesome, and I love this stuff. There's a good reason I am making the changes in my life necessary to continue using this to be as healthy as I can be!
*These statements have not been evaluated by the Food and Drug Administration. This product is not intended to diagnose, treat, cure, or prevent any disease.