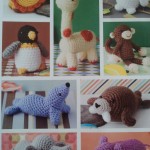 Okay, everyone. I have recently acquired some new crochet books, and there are SO MANY CUTE THINGS I want to start making. I really can't make up my mind. I need your help.
You see, I had my birthday. (Yay, birthdays!) And yes, it was great. Jared went out of his way to make sure it was nothing like last year. Even Evelyn cooperated, and she was much, much sweeter than her acid refluxy little self a year ago. Jared and I even went on a grown-up dinner date thanks to a good friend who was willing to spend a hour or two with Evelyn.
After Evelyn went to bed, I got to open presents. I love presents! (Anyone who has small children can understand why we waited until after Evie's bed time to open presents. Don't judge.) Anyways, among these great presents, "Evelyn" and her dad gave me two darling books full of fun crocheted cuties…. And now I can't make up my mind what to make next.
LOOK AT THESE ANIMALS:
HOW am I supposed to decide which one of these to make for Evelyn next?
On the "Creepy-Cute" side, we have the following options!
Queen Vampire:
Amazon lady: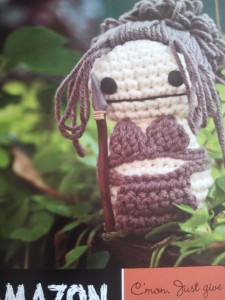 Or Classic Grim Reaper.
Do you see now why I need help? Please, oh please, help me decide what to make next! Any favorite animals (That is a pattern you see above, please)? And a favorite creepy? Please leave a comment and help me out here!