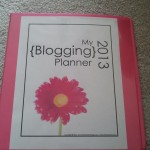 As part of my first review, I got to select a free blog planner to look over and share with y'all. I was actually pretty nervous about this at first, since I am now the "Stay at home mom without a definite schedule", so what do I need a planner for? Turns out this was pretty awesome for me. While there were several good picks to choose from, one in particular stood out.
World, meet Mama Jenn's FREE Blog Planner for 2013. Colorful, fun, free, and user-friendly!
(By the way, "free" is one of my new favorite words now that we are on a stricter budget.)
I choose this blog in part because while it is specifically geared towards planning blogs, you can use it as a general calendar as well. There are over 50 pages you can print for this daisy themed planner, which you can either bind or hole punch and put in a notebook, like what I did, since I have so many binders left from my teaching days!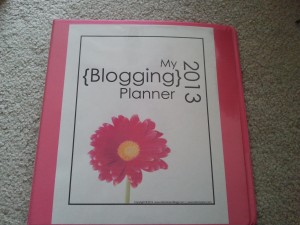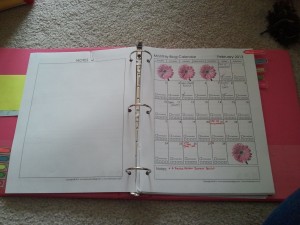 As you can see, there is the Month-At-A-Glance for each month where you can fill in various posts that you would like to do, the type, and if you are the planning ahead type (which I wish I were, but sadly am not!) you could even mark them as written and scheduled and ready to post on those said days. I also like this feature because I can write other events that are going on in my day/week/month and it keeps me organized, plus giving me the extra reminder to try and post a little more frequently than I might otherwise do.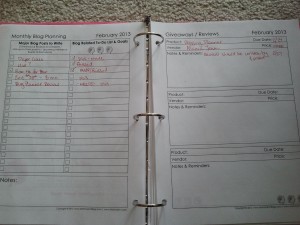 Next you can see the "Major Blog Posts to Write" and To-Do's associated with the posts, another thing to help with ideas. (I have moments of brilliance, and then I forget to write it down, and then you never get to see how brilliant I really am because I forget what I wanted to write about. Sorry. Having a baby really does do that to you.)
After that, there's the "Giveaways and Reviews" section. This will be good for me as I go through the process of doing more reviews- I do NOT want to forget that I am reviewing a product. And who knows, maybe I will start doing some giveaways soon. Keep your fingers crossed!
Some other useful aspects of this planner are features like the Year at a Glance page, the Monthly Blog Statistics page, extra Notes pages, and even a page at the end for "Future blog posts" for the next year.
The file only has the Notes page as the last two pages. When I printed it out, I decided to print those last two pages of the file enough times to put it at the end of every month to have extra pages to write extra ideas, reminders, and miscellaneous thoughts that come out of my head at weird times. Or, if you don't want to waste printer paper, you could always put loose leaf paper in those spots, too. 🙂
Year at a glance: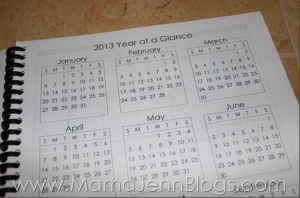 Blog statistics page (Something I needed help with!):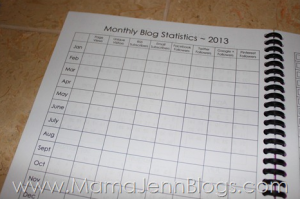 Extra handy dandy tabs I added to keep track of where things were: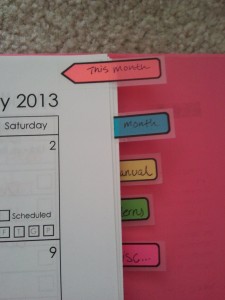 So, overall, I am quite pleased with this planner. It wasn't over-kill to print out with its simple, pleasant design with a touch of color from the daisies. I can use all the features easily and reorder pages to fit my specific needs.
If you are in the market for a new planner, particularly one to keep you more involved in the blogosphere, check out this choice. It might be the planner for you!