I know, I'm behind the game. But life happens, and that usually gets in the way of my posts… even though I have had several great things to share that I've been working on!
Today, we'll start with Evie girl. My little baby is growing up, and fast. She's crawling around and getting into things, and that made our photo shoot a little more difficult than it had been in the past! I dressed her up in her "Formula One" racing outfit (we joke that this will be her outfit for watching the races with Daddy!) and made her "Eight Months!" sign, and well… She didn't want to cooperate very much.
I got a lot more pictures like this: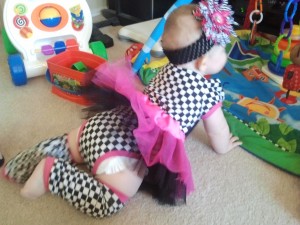 or
And occasionally a more serious one like this because I kept moving the sign out of reach and she could no longer try to eat it:
But this little chubby-cheeked girl is simply marvelous. I cannot believe how much she has changed our lives for the better. She completely makes  every day more exciting and worthwhile with her sweet smiles and trying to get into everything (and everything goes right into her mouth, naturally).
Once upon a time, I couldn't imagine being a stay at home mom. It didn't seem appealing to me at all. And now, I can't imagine going back to work when I have this wonderful bundle of joy to keep close to me. Even her worst moments (like how she decided to be awake from 11 PM- 2 AM the other night) are so much better than some of the "Okay" moments of teaching in the past.
And her best moments? Well, I think this smile says it all: