On Sunday, my baby girl turned four months old.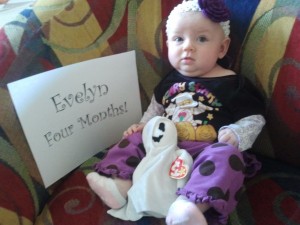 Look at that little girl chunking up. I absolutely adore her growing thighs and cheeks. And this is the only time of life that a double chin looks cute, right?
Anyways, I am a little late in posting because I am getting it back together after Jared's parents visited us for a week. It was a good visit- Evie got a lot of attention and love from the grandparents, for sure!
Grandma brought Evie some cute little home-made toys.
I can't remember what they are called, exactly, but they make a fun little crinkly sound when folded/smooshed. Evelyn has enjoyed them… mainly by trying to grab them and then crinkling them all up in her mouth. That girl. Anyways, I love the little stitching details around the edges- very cute!
We also spent most of Monday trying to get supplies for another project Grandma wanted to do.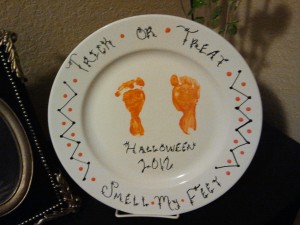 This was the finished result of that activity. I don't know how people manage to get good handprints and footprints of their children at this age. Mine kept curling her toes all up and wiggling as we tried to get her feet on the plate. After a half hour or so of trying to get a good print, we just settled for these. Evie was getting fed up with the whole process and needed a bath to calm down.
Great idea, with a calm, easy going child. Evelyn… she's a special case.
Anyways, each month brings something new and exciting with this little girl, and I am so blessed to have her in my life. She still is Queen of Cat Naps and All Things Persnickety, but she gets more and more fun by the day. I love her to bits and pieces!