…Evelyn came into our world and changed our lives forever (and for the better!).
I can't believe how quickly the time has passed us by. She's so much more enjoyable now that she can move a little bit on her own. Evie's always been curious, but now she can do more about looking around on her own and grabbing at whatever it is that interests her. She still isn't crazy about tummy time, but she can sit on her own and totter on her hands and knees. She LOVES to play with toys that light up and make noise.
The best part is getting her to laugh every day. If Jared and I can get a few good laughs, it always seems to make the day better, regardless of how bad a day it was before.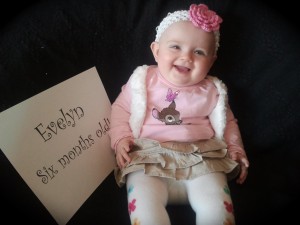 This sweet girl has grown so quickly (three times her birth weight by now!) and I am so grateful for the opportunity to stay home and watch her grow. Being her mom has been the best job I have ever had! 🙂