Recently I have had the opportunity to check out Spanish for You!'s curriculum for homeschooling. I reviewed the Estaciones (Seasons) e-book and all digital files for this product for grades 3-8.
Right now, there are two themed curriculum for sale. You can get the Fiesta (celebrations) OR Estaciones packages. A single grade level costs $39.95, or you can purchase grades 3-8 together for $64.95. From what I have seen of online language curriculum, for all the items and scholastic value, this is a fantastic price. (There is also a third book, Viajes (travels), that will be available soon and has some short units for sale now.)
What you get for the price:
a soft cover book (trial packages, like mine, come with an e-book instead)
a 24-30 week lesson guide for the grade(s) you order in PDF format
self-checking worksheets in PDF format
flash card pages with pictures that correspond to the ones in the book in PDF format
audio files in MP3 format of the entire book spoken by a native Spanish speaker from Mexico
Audio files in MP3 format spoken by an American that is a little slower (great for beginners!)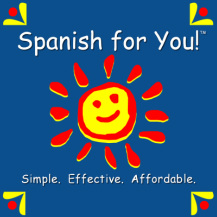 Disclaimer: To be honest, I had a difficult time with this review, but a large part of it is that I only have myself to test it out with, and so I can't be fully honest with how effectively it works with the targeted age range.  I also have NO experience with Spanish, except the basics like, "Hola, amigo!" and "Gracias". While I found similarities with my experience with learning French years ago, second languages have always been a weak point for me-ESPECIALLY when all I have is myself to work with!
Another bummer was that I'm a very hands on person with books and papers, and I only received digital files for this product (like the e-book). I've also had limited access to a printer right now. The organization of the files was very frustrating for me to try and figure out, and almost made me give up on giving the product a good try. Fortunately, in the past week, the author, Debbie, has said she's completely revamped the organization of the digital files, so it should be easier to maneuver through if you download the product tomorrow. Yay! (Debbie is so responsive to feedback and willing to help with the product- a definite plus to this product.)
Knowing all that, don't discount the value of this product. 
There are several positives.
The back story to this product is worth knowing: Debbie Arnett, the creator, IS a certified teacher and has experience teaching this curriculum in an Enrichment Home school Coop. She tests out and adjusts all her curriculum through the students (grades 3-high school) there first for an entire school year before placing it for sale. She also studied in Spain. (You can learn more about Debbie here.)
Each unit includes key building blocks for learning a foreign language, like vocabulary, pronunciation, syntax, verb conjugation, and grammar, to help develop their fluency.
I love that this is designed for multiple experience/age levels, and that you can use the same book, just the different grades of worksheets depending on your students. And if you have an advanced 4th grader, why not just bring them up a level?
Audio to help with sound and pronunciation (where I struggle the most!) from native speaker from Mexico and by an American. Having the English speaker audio was great because it sounds more like what I would sound like speaking Spanish; it's slower and less intimidating to pronounce!
Flexibility: you could take 3 days just to work on lesson 1, Day 1, or you could do 3 lessons in one day. (I was definitely more in the first group!)
Additional things to know before purchasing this product:
Have a good internet connection to help with downloading the material. It's a lot of downloading, especially with the audio files.
Printer: You MUST have a printer ready to handle the load. Or have somebody handy to reload the ink cartridge when you run out.
You need a computer program that can play all the MP3s for the audio, which I found extremely valuable.
You need a computer program like Preview (Mac) or Adobe to view the many, many PDFs
Useful, but not necessary items to make this more interactive and fun could be colored paper (or card stock), dry erase boards/markers.
In conclusion: If you've been considering adding a foreign language to your curriculum, Debbie's Spanish For You! material is definitely worth considering for the unbeatable price for the material you will receive. 🙂