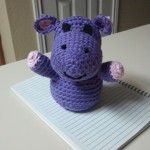 You might remember a few months ago when I posted a gift that I received from the Pay It Forward 2013. I have since been working on several small projects for the people that signed up under my Pay It Forward campaign. 😉
The first gift for one of my four people arrived last Friday, and I am so excited to share it with you because I think it's pretty cute: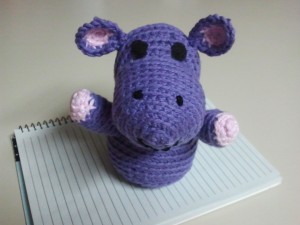 I made this for my favorite sister-in-law (does it matter that she's my only sister or sister-in-law? I don't think so!) She said her favorite color right now is purple, and at least for a while, she LOVED hippos, so I found some purple yarn and this Shasta The Hippo pattern from Ravelry.com (I don't like how the pink in the original project almost makes it look more like a pig than a hippo!) and got started.
This hippo even comes complete with this darling little tail:
And check out this happy smile! I love how the arms turned out like the hippo is about to give you all a hug: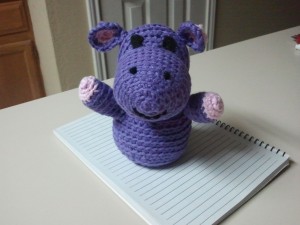 Hope the hippo's new home is happy to have this cutie pie. It was hard to give this one away! 😉