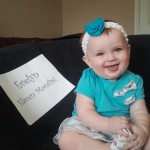 Yeah, I know. Lots to say, not enough time to type and post. Unless I decide to miss out on sleep. Or maybe a hot shower. And my priorities just don't roll that way.
Anyways, May is a busy month in our household. The Man Of The Household has his birthday, and one of my brother's birthdays. In the past, I was wrapping up the end of the school year, which was always…fun?
(Showing Dad how to party on his special day!)
This year brought on Mother's day and baby's first swimming lessons AND first tooth, instead. (And then there's the fact I take care of one small human, one tall human, 3 small dogs, and four chickens, too.  What? You can do all that and a full time job AND weed your garden every day? Show off.)
So fun times for us. The Little E turned ELEVEN months. (I get to be the Big E. Go ahead and laugh.)
Seriously, where has this year gone? I'm pretty sure Evelyn just barely showed up in my life a month or two ago… and now she's almost walking on her own.
Oh, and NOW she can bite. Baby teeth are like little razors. I think I would be extra grumpy if that sucker was breaking through my skin, too. But since Evelyn's always pretty grumpy, fights going to sleep, drools, and gnaws on everything, it was still sort of a surprise for that cute tooth to poke up Tuesday.
She also did a GREAT job in the pool. She had no problem going into the pool. She is such a water baby. Which was great when she had 45 minute class four evenings a week for the past two weeks. I think it wore me out more than it did her!
(Hey Mom! I'm all dressed up! What's the surprise?!)
(Inner Baby Model: Yeah, I know I look good. How YOU doin'?)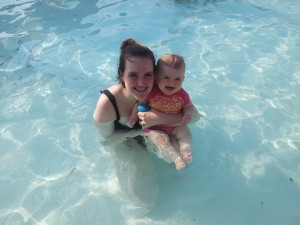 (Mom, this is AWESOME! It's like my bath, but A WHOLE LOT MORE room to splash!!!)
You know, I had a whole bunch more to talk about, but I just looked at those cute pictures of pool-ready Evelyn and with a big smile on my face, completely lost my train of thought. It was a busy month, but full of good things. So on that bombshell, I think it's a wrap.
Just look at that cute little smile and think happy thoughts before you go to bed tonight.