Homeschool Planet Review
It's been a crazy few weeks. Kids who won't sleep. Babies who refuse to sleep. Babies getting new teeth. Appointments. Classes. Even with my two little ones, it seems like there's always something to remember on the calendar.
Speaking of calendars and planners… For those of you out there who do homeschooling, or just have a lot to plan for your family, this review may be for you!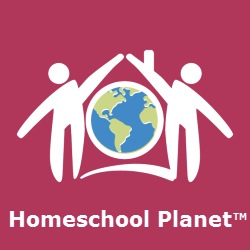 Price: $65.00/year or $6.95/month
Free 30 day trial available. (One thing I LOVE about their trial period is that you don't have to enter in your credit card, so if you forget to cancel and your account expires, you don't have to worry about getting charged!)
For the trial, you will need to create a FREE account with Homeschool Buyers Co-op, but emphasis goes back on the "FREE" aspect there.
Features at a glance:
A Calendar View that lets you see anybody's or everybody's calendars at once
A Planner View with a simple list of everything you need to do and when
Automatic Rescheduling
Separate logins for kids
Daily Digest emails to everyone in your family with their own schedule, assignments, and chores for the day
Email and text message reminders
Lesson plans
Easy attendance tracking, grading and transcript creation
To Do lists
Shopping lists (one each for each store)
Widgets
Lesson copying
Mobile version (limited, and it did not work very well for my Samsung smartphone)
Calendar sharing with other calendars like Google Calendar
Some things I personally liked about this program:
The set up is easy and straightforward.  It wasn't hard at all. You can make it more complicated with color-coding and what have you, but that's about it.
I liked that I could add cute pictures of my family members, to their individual profiles, too.
I also like the backgrounds. Let's all agree, having choices on what your calendar looks like may seem small, but that power to change it makes us happy. Some of the selections are very kid friendly, too. (Robots, musical notes, dinosaurs, oh my!)
The separate shopping lists are pretty nice. If you like to get certain items from Costco, from Target, from your local grocery store, then the ability to switch through lists is nice.
The side widgets are a nice touch, but not really necessary. I like having a daily quote to look at, but if it disappeared I wouldn't miss it. The separate To Do lists for everyone in the family is a nice touch if you have kids old enough to log in.  And there is something so very satisfying about being able to click the checkbox and see the tasks get crossed off!
There are features I noticed that I don't use much, but I think could be great are mostly related to actually setting up structured classes for the homeschooling or actively in school families.
Homeschool Planet keeps track of the number of days in a school year. There is also the option to track hours. You mark off your school days, holidays, etc.  I know some states require you to keep closer track of your school hours and days, so this feature would be a nice addition for those of you who fall under those regulations.
The class set up seems to take a bit of time, but once you have it down seems great! I really like the idea of having the daily digest email you and  your students with their scheduled assignments, and how it allows you to input their grades. I can't say too much about actually using these features personally as my 2.5 year old is not allowed to get on the computer herself, and our learning is more active play, song, and reading books than graded assignments.
My overall take:
If you homeschool, this would be a great digital planner and calendar for you. It's the whole package. You can have all your appointments, classes, plans, to do lists, grocery lists, in one place. I love the idea of older kids being able to log into their own accounts, too. I would find this an extremely useful tool in getting me organized for the school year.
This could be even useful for parents who have children in a school outside the home, too, as long as they have a teacher that openly communicates with them on assignments, etc.
However, if you are like me, without school-aged children, the most useful aspects of this calendar aren't really worth the price tag. I have a Google Calendar, and use Google Keep for my shopping lists to share with my husband, which are free with my Google account. In that regard, I don't get to use the most this program offers. That being said, I definitely will be considering it for when my children are old enough to start traditional school.

Check out more reviews at Home and School Mosaics.