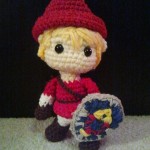 Recently, it was my brother Jacob's birthday, and I made him a special gift: a Link amigurumi figure from "The Legend of Zelda" games that he was a huge fan of growing up. He also loves playing Link on "Smash Brothers" and as soon as I came across this pattern from Tanoshimou and these accessories and great pictures from All About Ami.
Of course, I did make a few changes. The biggest change is that instead of the traditional green getup, I had Link in red, since that's his favorite color!
I am thrilled with how my little buddy Link turned out:
The awesome part about this pattern is that his head can swivel! It was kind of funky to crochet the ball and joint for his head, but it actually turned out better than I thought it would! 🙂
Once he was done (A LOOOOONG process!) it was time for his shield, sword, and sheath!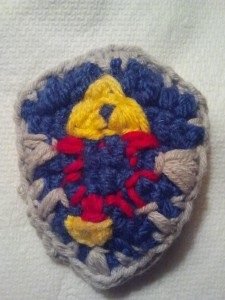 I followed Stephanie's instructions mostly for the shield. The main difference was that I bought gray yarn JUST for this project, and so I used it for the back of the shield as well instead of blue.
As for the sword and sheath, I had to be a little more creative. I didn't have any good dowels or materials for the "blade" so I crocheted it. Because it was a little bigger, I had to make the sheath a little bigger, too. I didn't follow a specific pattern for either- I just eyeballed what seemed to work well in proportion to my Link.
After all that, you put it all together and TA-DA!
Jared had to inform me that I had the sword and sheath going the wrong way on Link (NERD ALERT!) so I had to do some small adjustments for his photo op and packaging to be sent to his new BFF Jacob, but all in all this was such a fun project. I think this makes up for the lack of gifts that I couldn't send to Jacob when he was off doing missionary work in Fiji for two years. (Have you ever tried shipping anything to Fiji?! It's ridiculous!)
Oh, and did I mention the hat comes off, too? So awesome. Seriously, get busy and make this for the resident nerds in your life. They'll love you all the more for it. 😉