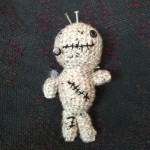 The Mister's birthday was last week, and I had been working on a special project for him based on his recent renewal of love for all things zombies!
Welcome to the house: The Zombiebot (yet another Pinterest goody!)
HOW CUTE IS HE?!
This was a really fun project, just using simple spotted beige yarn (I used Vanna's Choice Oatmeal from Lion Brand) and just some black yarn. It's ALL single crocheting in the round.
Find some random screws and/or nails, a few springs (or in my case, some wire wound around a small screwdriver will work) and voila- your very own little minion.
I think that the hardest part was the assembly and stitching on the scars- mainly because I was a bit of a perfectionist. I wanted him to still have a little bit of "cuteness" even if he was a zombiebot, so I gave him a little scar-mouth smile.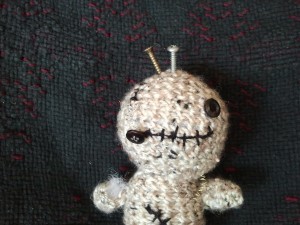 This was a fun, quick project and Jared loves his new little minion. He will soon be living at Jared's place of work to constantly remind him of what to do if a zombie apocalypse ever occurs. 😉