So, I have been hard at work crocheting!
The easier projects, that also were something different than I had been doing recently, were the ones from Creepy Cute Crochet.
Griiiiiiim Reaper (Super creepy cute and easy to make!)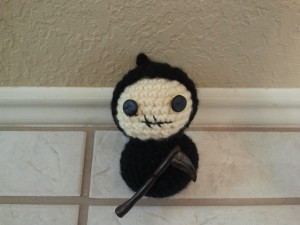 Amazon warrior princess (Not so cute or fun to make… I am not a huge fan of her right now!)
Buddies together! (One likes to bring death, the other IS Death! Haha!)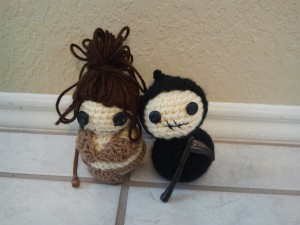 Okay, but DOWN TO BUSINESS. When it came down those cutie animals, it was ALL OVER THE PLACE. I got votes for everything! But, we simplified!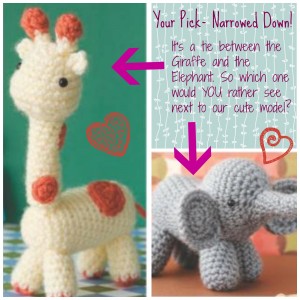 Which is coming first? The Giraffe, or The Elephant? Which one would YOU want to see cuddled up next to Evelyn?
(Kinda like "Which came first, the chicken or the egg?" Which reminds me, I have a chick and an egg pattern/materials that I should get around to making sooner than later, too…)
ANYWAYS…. Please vote soon so I can get started!