Everything is on track with Baby Boothe! We went in for the 20 weeks anatomy ultrasound today, and it was great. Everything – all hands, feet, internal organs, face–everything looked great. The technician didn't see anything that would cause alarm. And Baby Boothe was pretty active and wiggling.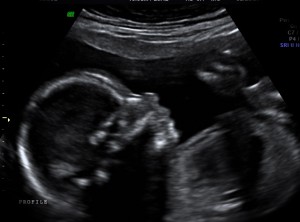 But let's face it. You are tuning in for something a little more exciting than just basic anatomy reports about Baby Boothe. So let's get down to business.
Baby Boothe is a Boothette.
That's right! We're having a baby girl! I'd show you the proof, but that probably would be seen as taboo and violating my child's future rights as a human being once they appear outside the womb. But let's just leave it at the fact that we don't have a lot of questions about the gender, because she wasn't in a very lady-like position.
Anyways, apparently there will be a lot of pinks, bows, and dresses in our future. And we couldn't be happier. Lots of fun planning to start doing now that we know. 🙂
On a final note, look at these cute little toes! Already love them!