Evelyn's first Christmas with us was absolutely lovely. I know she won't remember it in the future, and she doesn't understand what Christmas is, yet, but I still wanted it to be a great day for her and us. We weren't disappointed!
She almost slept through the night, which was wonderful for me. When we both got sick over Thanksgiving, she went to getting up every 1-2 hours during the night again, and so we had to work on getting her to sleep in her room once she was well because I just couldn't swing that schedule again. She's gotten better and even slept through the night a few times, so it was overall a good night for her.
Of course, opening gifts for/with her was a blast. This little girl got SO MANY GIFTS. I would say that this almost-six month old girl owned at least 2/3 of the gifts under the tree, and most of those were from our relatives! 🙂 She doesn't know how lucky she is to have so many people love on her like they do. I hope she does know it some day, because I am in awe of everyone's generosity towards her.
To give you an idea, here's Evelyn's piles of Christmas loot she got this year: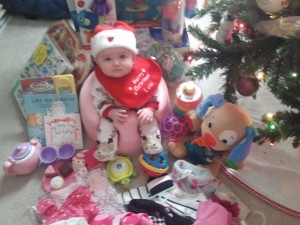 I couldn't get all of them into one picture very well, but I tried.
So to everyone who sent Evelyn something, THANK YOU! Everything was so adorable- I don't think there was anything that we didn't like. I can't even name favorites because everything was so great! She was old enough and curious enough to want to grab at everything and play with it for a minute or two until the next toy/object came along… at one point, she was surrounded by 4-5 objects and you could tell from the look on her face that she was confused by having so many choices to play with!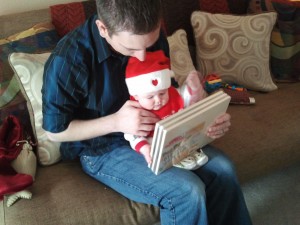 Jared had a great time holding Evelyn and showing her all her gifts.
Both Jared and I were quite satisfied with all our gifts as well. He's going to go to a car racing class in a few months, and I got a dehydrator and will be attempting to learn knitting and crocheting. (So far, so good on the knitting front! Crochet project is a little more complicated… hopefully I'll figure that out, too!)
Even the dogs got in on the Christmas fun!
(The dogs got their pjs just in time, too! We had a cold front roll in later on Christmas day, and they were able to stay warm in the freezing temperatures.) 🙂
Once again, thank you everyone who thought of us and helped make our Christmas that much better.
I hope everyone else out there had a wonderful Christmas. Anybody get a favorite awesome gift? 🙂