Sometimes life throws curve balls at us. Other times, it feels like life drove our car into a concrete wall at 60 MPH, and then, for good torture measure, gave us a paper cut and poured some lemon juice on it.
I'm feeling a little more like the second right now.
Our Thanksgiving was supposed to be awesome. Jared had the whole week off from work. His sister was coming in; we hadn't seen her in a year, and she'd be meeting Evelyn for the first time. We were getting our foster dog (more on that in a later post!). We were going to take Evelyn to see Santa at the local mall, even!
It all started to go downhill when Jared got a bad cold. He started feeling under the weather Thursday or Friday of the previous week. He then had to chaperone a church youth dance that Saturday night, and by Sunday, he was pretty miserable. Sarah, his sister, was supposed to get in around 7 PM Sunday evening… but due to a bizarre airport switcheroo/delay, didn't make it until midnight.
Monday we had to take my car into the shop for some problems. So, the only car available to us was Jared's monster truck, and the only person who is vaguely comfortable with driving that beast on the road was Jared, who by this time was pretty much holed up in our room with a heating pad stuck to his head to help relieve the pressure. So, we stayed home and watched a lot of TV and played with Evelyn. Wednesday my car finally became available again, but all of us were feeling kinda off (except Jared, who had finally given in and gone to the doctor, who diagnosed his sinus and two ear infections and gave him antibiotics, so he was starting to move and interact like a human again…). So we didn't do anything.
Thanksgiving was good, except for the "offness" continuing. Even Evelyn was showing slight signs of feeling unwell with a little cough. We decided to keep an eye on it, because it wasn't like the doctor's office was going to be open on Thanksgiving.
Despite that, I made a pretty good dinner, if I may say so myself. We tried brining a turkey for the first time. I am not sure how effective that was, but hey, it was a new thing. We had a delicious cranberry fruit salad, stuffing, mashed potatoes, rolls, and with the leftover cranberries, I even made my first attempt at cranberry sauce for the turkey! (It was actually pretty decent for a rough experiment.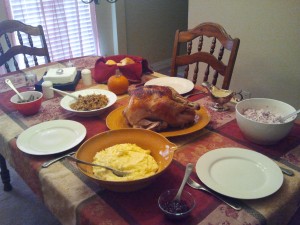 After going into a Turkey coma, Friday showed us that Jared, despite his attempts to prevent it, had been kind enough to share his germs with the rest of us. Including Evelyn. Going to the pediatrician showed that she did indeed have RSV, a cold variant that is more dangerous for infants because it likes to get down into the chest, which can cause bronchitis or pneumonia. Poor baby was not feeling well.
(By the way, it is never fun to be told that you might have to take your baby to the ER over the weekend if she starts having a hard time breathing due to this virus. And, even though she's miserable, you can't give her anything. And, Mom, btw, you can't take anything either since it could affect her feeding.
Sarah rallied the troops by taking us out for dinner (which was very sweet, considering how incredibly boring hosts we were and the fact that Jared got her sick) that evening, which was good because by Saturday, we were all down for the count.
Now THAT is an exciting Thanksgiving, wouldn't you say?
Okay, despite the sarcasm, it really was a good visit, and Evie loved getting attention from her Aunt Sarah. They had some sweet cuddling sessions! Hopefully it won't be another year before we see her again, because she is pretty dang cool. As if Evie's onesie could lie.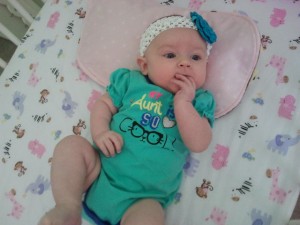 Anyways, I guess the moral of this story is families share a lot, which is good, except when it's germs. Then you are welcome to keep them to yourself. Next time Jared is sick, we'll lock him up in the office room and install a doggie door to slide meal trays and medicine under until he is feeling well again.
Just kidding, dear. Kind of.