Good news: Stevie got his stitches out Saturday!
Bad news: He's been tearing around the house like a fiend now that he doesn't have annoying stitches and staples cramping his style.
Good news: He hasn't managed to hurt himself more yet!
Bad news: Regardless, he still looks a bit mangy.
So, what looked like this:
Now looks more like this!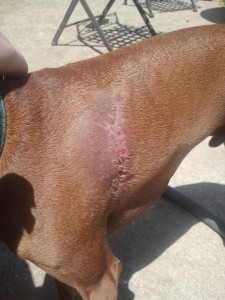 Big improvement, though, yes?
Speaking of news, Bonnie got to visit the vet last week, too. She apparently thought that Stevie was taking up too much of the attention around here and started to have some very concerning back problems. Every time we would try to hold her, she'd yelp. It got to be that Thursday evening she could barely walk, and even laying down or getting up on her own in her crate was making her cry. She couldn't bend over to eat her food out of her bowl, even though she was hungry (not much is more pitiful to watch than that dog circling her food bowl, occasionally pawing at the kibble, trying to figure out some strategy to try and get the food to her mouth!). I ended up having to hand feed her for a few meals.
Anyways, vet said she's probably got a deep muscle tweak or a very minor disc issue and sent us home with some doggie muscle relaxers and pain killer/anti-inflammatory, but said it's nothing to be too concerned about unless it gets worse. Bonnie is loving the excuse for extra peanut butter and is pretty much back to her normal self.
We just cannot keep up with their crazy shenanigans and medical bills as we quickly approach the Baby Boothe birthday arrival, so both dogs are on probation from having too much fun until further notice.
Since this means mostly sitting with me on the couch for hours on end, they don't seem to mind.