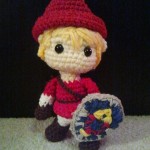 I was just thinking about my big New Year's Resolution for 2013. I wanted to learn a new hobby- particularly focusing on crocheting/knitting. While I haven't quite gotten excited about knitting, I feel pretty good about nailing the crochet part of my resolution.
Here is a year in review with some of my favorite projects.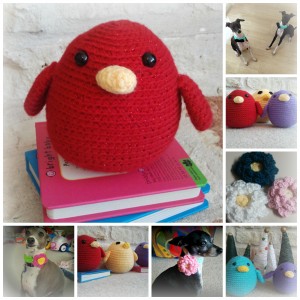 I did a lot of crocheted flower/bow-tie collars for rescue, along with birds that could be sold to raise money for IGCA rescue, too. (And I made several birds as gifts for friends, too!)
I have made several cute booties and accessories for friends and others, but these are my favorite. Evelyn's owl hat was a blast to make. I still adore her pink boots That she wore for a while back in February, along with her "Converse sneakers". (Now that I think of it… those "barefoot sandals" from the same post as the sneakers were pretty sweet, too!) The fingerless gloves in the middle were a Christmas gift for my sister-in-law, and it's hard to tell from the picture, but there's strands of glittery silver mixed in with the yarn, which is a super soft blend of merino wool and silk lace weight yarn. They were so soft and beautiful!

And of course, all the stuffed animals/ amigurumi items I made were both a major pain and so fun to try out. While I thought that Link and Yoshi were going to kill me to assemble, the end results were absolutely worth it! (You are welcome, Jacob and Stephen. Like my college-aged brothers have time to read my blog, though! 😉 ) Evelyn's birds, bear, and birthday owl were easy enough, but great softies for her. And the patterns from Creepy Cute Crochet (Ninjas, Amazon Warrior Princess, and Grim Reaper) were all great learning experiences, as well as fun gifts and decorations.
As far as meeting a New Year's Resolution, I think this year I hit it out of the ball park! It's so neat to look back on the past year and see what I've accomplished when this time last year, I couldn't even do a single crochet stitch. 🙂