I haven't been very active on here lately. I wanted to do better with blogging, but it just hasn't been in my bandwidth. There's been a lot going on, and with my energetic toddler, I don't know how anyone has ever had the time and energy to get anything done with these crazy little cuties around.
But other than that, if I were to be completely honest with you all, I would have to say that I've been struggling with a big resurgence of my anxiety/depression issues, and just being able to take care of my family's immediate needs has become a main priority. A lot of the remedies I would usually turn to aren't as viable an option right now, especially being pregnant. And I know the pregnancy has it's own share of contributing to the problem with hormone changes and pain issues. I've felt fairly isolated lately, and it's been a really difficult time for me in those regards. However, I do apologize for not keeping up with this as well as in the past.
Things with BabyB v2.0 have been moving along fairly smoothly. In fact, a few weeks ago we found out that "it" is a HE. I felt pretty strongly all along that this little guy was indeed a guy, so it was pretty much what I expected. We were really fine with whatever the result would be, as there are benefits to having both another girl, or having a boy, so really it is just planning ahead now that is the fun part.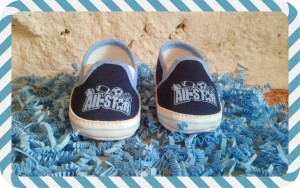 The "REVEAL" picture I shot the day we found out.
One of my favorite pictures from the ultrasound- he's waving hi!
Anyways, that's been fun. I enjoy being able to plan. The pregnancy has gotten a little more painful the past week with some lower back pain issues that we are working on resolving, but it's hard to not tweak your back when you have an energetic toddler, right? So being able to sit and rest and dream up ideas on Pinterest of how we can decorate BBv2.0's room has been a saving grace for my attention during this lonely time, and I am glad for the distraction.
I've also been working on a small crochet blanket for him the past few days. I am really excited about this project, especially because it's the colors I've wanted for his nursery from early on, even before I knew for sure he was a boy. I was trying to think of ways to make them work if BBv2.0 had been a girl, so I am glad I don't have to try as hard now!
The colors (in cotton yarn, as he's going to be a summer baby!)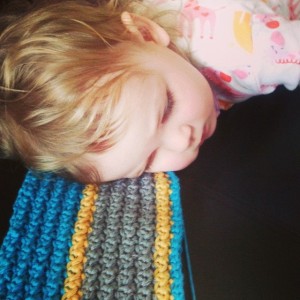 The project so far, based on this Tiramisu blanket pattern.
I haven't gotten too far yet, since thanks to the cutie pictured above, it took about 5-6 hours to untangle a yarn mess she created, putting me a day behind. (Bonus, it motivated my husband and me to FINALLY get a yarn swift to go with our winder so we can wind hanks/skeins here at home… yay!) I tried to get a stand alone picture of the project all morning since the light has been good, but SOMEBODY would not leave the blanket alone. She sees it and immediately wants to snuggle it. I may be making a second blanket here soon just for her since she has been so obsessed with this project.
So that's what has mostly been up in our lives. Incubating baby #2, surviving Toddler #1, and fighting a battle with housework that if you came over, probably would look like we're losing. 😉