It's a sobering thought when your first little person has now spent more time OUTSIDE of you than in you!  But our sweet Evelyn turned 9 months old last Thursday.
I know. She was not a fan of her pictures. But she has three more months of these photoshoots before I stop, so she'll just have to deal accordingly.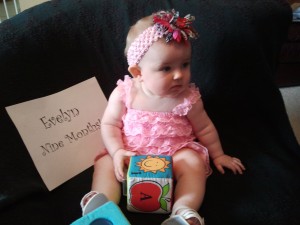 (Sorry for the lateness of the pics, btw. Between me being sick -AGAIN- and family in town, I was taking life day by day!)
The past month or two, she's developed this intense/excited look. It's kind of like she really wants to say something and is super excited, but she just can't get the words out. Here's an example of it in photo- it's cuter in person, though.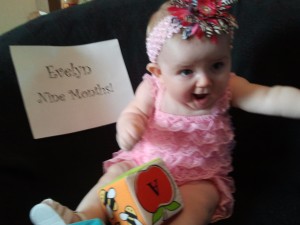 Grandma K. was here while the hubster was away being a judge at a FIRST Robotics regional competition, and Grandma K. made sure that Evelyn was a spoiled little girl and helped us splurge to get her some lovely things. I don't think I've gotten myself new clothes since Evelyn was born, but I can't stop myself finding cute things for her! (Grandma also helped us with getting our yard and garden back on track, but that can be a later post!)
We also got to celebrate Easter with Evie, and the best part was seeing my little girl look like a perfect angel in her Easter dress.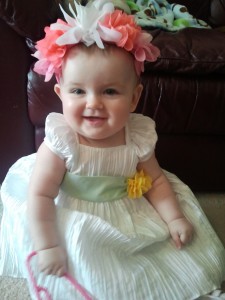 Straight from heaven, right? I cannot believe how lucky I am to live this wonderful life. Evelyn brings us all so much joy! I feel like my heart must have grown three sizes or more when she was born, and I wasn't even that "Grinchy" to begin with!
Okay, before I get too sappy, I wanted to share Jared's Easter basket. Since he loves zombie flicks and lately has been all about "The Walking Dead" and the zombie apocalypse, I saw these and had to special order them for his Easter basket.